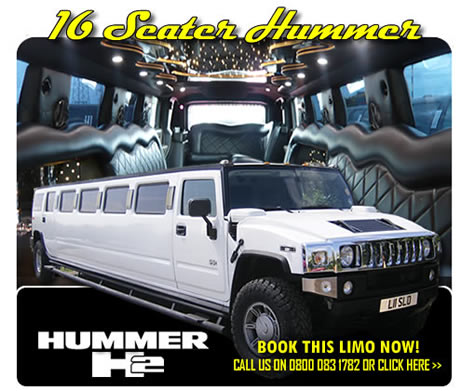 Hummer Limo Hire Chorley
For those looking for the ultimate limo ride we offer this genuine super stretched Hummer H2 limousine. Our Hummer limo is fully COIF'ed, legal and insured to be on UK roads. There are many Hummers being hired that are not legal so don't take risks with your and your friends' safety.
Our Hummer H2 has been fully equipped with the best features available! Comfortable leather seats great passengers as they step inside the car. Seatbelts are fitted as standard. An attractive backlight VIP bar includes an ice bucket and champagne flutes for everyone onboard to enjoy a drink. Starlights, fibre optic lighting, flatscreen TVs, DVD player, excellent speakers and tinted windows all add up to simply the longest, coolest limo in town. Share a ride with groups of upto 16 passengers per journey. Why hire a boring old minibus when you can travel in superstar comfort?
Enjoy a Hummer ride that you won't forget for a long time! Call our FREEPHONE number on 0800 083 1782 (or use local number 01204 522 422) or complete the online enquiry form to find out more!